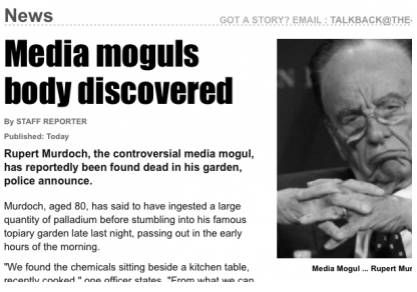 LULZ SEC SUN HACK – Fake Murdoch death notice
LONDON (Associated Press) – A group of internet hackers claims to have tampered with the website of Rupert Murdoch's Sun newspaper.
Visitors to The Sun's website late Monday were redirected to a page featuring a story saying Murdoch's dead body had been found in his garden.
Lulz Security took responsibility via Twitter, calling it a successful part of "Murdoch Meltdown Monday."
Lulz Security has previously claimed hacks on major entertainment companies, FBI partner organizations and the CIA.
============
In the fake death notice, there is a reference to the chemical element Palladium being found in Murdoch's kitchen.  That may be a veiled and ironic reference to the poisonous role of Rebekah Brooks.  The name Palladium  derived from Pallas Athena.  If we see Brooks being the font of stupidity rather than wisdom, the ironic reference fits.  Of course, it could be a reference to car exhaust which has quite a bit of Palladium in it.  Murdoch media properties produce environmental pollution on a daily basis.
In any case, we have some clever and literate hackers.
Nice work Lulz Security!!!
Tweet This Post