By James Hansen PhD
(Published with the author's permission)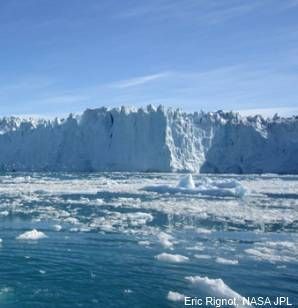 (27 January 2012 ) The threat of human-made climate change and the urgency of reducing fossil fuel emissions have become increasingly clear to the scientific community during the past few years. Yet, at the same time, the public seems to have become less certain about the situation. Indeed, many people have begun to wonder whether the climate threat has been concocted or exaggerated.  (Image: NASA JPL)
Public doubt about the science is not an accident. People profiting from business-as-usual fossil fuel use are waging a campaign to discredit the science. Their campaign is effective because the profiteers have learned how to manipulate democracies for their advantage.
The scientific method requires objective analysis of all data, stating evidence pro and con, before reaching conclusions. This works well, indeed is necessary, for achieving success in science. But science is now pitted in public debate against the talk-show method, which consists of selective citation of anecdotal bits that support a predetermined position.
Why is the public presented results of the scientific method and the talk-show method as if they deserved equal respect? A few decades ago that did not happen. In 1981, when I wrote a then-controversial paper (http://pubs.giss.nasa.gov/abs/ha04600x.html) about the impact of CO2 on climate, the science writer Walter Sullivan contacted several of the top relevant scientific experts in the world for comments. He did not mislead the public by dredging up and highlighting contrarian opinion for the sake of a forced and unnatural "balance".
Today most media, even publicly-supported media, are pressured to balance every climate story with opinions of contrarians, climate change deniers, as if they had equal scientific credibility. Media are dependent on advertising revenue of the fossil fuel industry, and in some cases are owned by people with an interest in continuing business as usual. Fossil fuel profiteers can readily find a few percent of the scientific community to serve as mouthpieces — all scientists practice skepticism, and it is not hard to find some who are out of their area of expertise, who may enjoy being in the public eye, and who are limited in scientific insight and analytic ability. Read the rest of this entry »
Tweet This Post