By Michael Collins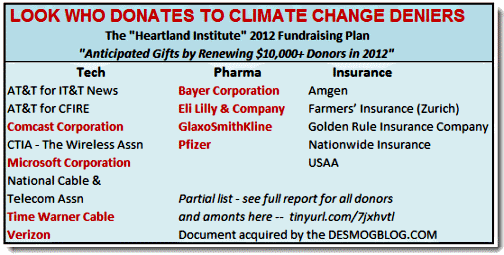 The nation's largest software company, the two largest cable companies, and four leading pharmaceutical companies are among companies donating $10,000 or more to a climate change denier association. DESMOGBLOG.COM received the fundraising plan and other documents from the Heartland Institute, a climate denier foundation. The institute's documents were published on DESMOGBLOG's web site with analysis since Tuesday.

Climate change deniers are simply unacceptable for civilized company or any other, for that matter. Their shameless pseudoscience puts us all at risk. The reality of climate change is with is daily and poses a threat to the entire population of the planet in one form or another. According to leading scientists, the rate of manmade climate change is accelerating well beyond the changes targeted by the ill-fated Kyoto protocols.
Yet the deniers keep on popping up and the corporate media, to its eternal shame, keeps up with the idiotic notion that "there are always two sides to a story."
One would think that major corporations, particularly those with some high tech or scientific involvement, wouldn't go near climate change deniers. But alas, the fine folks at the Desmogblog.com received certain internal documents from a major funding source for climate change denial, The Heartland Foundation. Several documents were received and the institute is claiming some of the documents are not authentic. This one – The "Heartland Institute" 2012 Fundraising Plan - has been confirmed.
Some of the corporations donating claimed that their money was for other projects, not climate change denial efforts. That's sort of like saying that they donated to al Qaeda but not for that terrorist business.
The ruling class has gone over the cliff and they're trying to take us with them.
END
This article may be reproduced with attribution of authorship and a link to this article.
See…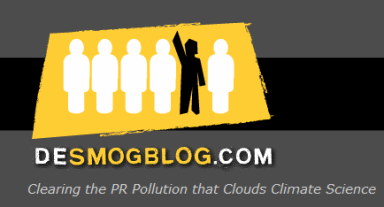 Tweet This Post