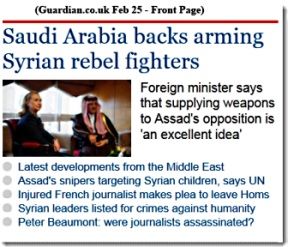 Take a look at the image of the Guardian front page today.  There are five stories listed.  From the "Friends of Syria" meeting, the Saudi's suggest arming the Syrian "rebels" (they already have, according to Brian Downing).  Then we get the sub headlines telling us that Assad is targeting children (surely incubators are soon to follow), two journalists are in trouble, and Syria is committing war crimes (what about U.S, UK, and French leader war crimes in Libya?).  This is truly "Fair and Balanced" in the Murdoch/Fox sense of the phrase.
While the Guardian stenographers are busy carrying the water for Cameron and NATO, some of their first rate reporters should follow this story.
The Guardian Challenge
This video is from an anti Libyan rebel site.  It purportedly shows "-Criminal "rebels" of Misurata locked up and humiliate the residents of Tawerga to the Zoo cage, which was at the end of August – beginning of September."  Tawerga, you may recall, is the town of 30,000 black Libyans that was ethnically cleansed by the victorious rebel forces from Misurata.
Here's the challenge to the Guardian.  Is this video showing prisoners forced to eat the former flag of Libya for real?  Are these prisoners from Tawerga?  Are they being abused by rebels from Misurata?  We've seen many anonymous pro rebel videos from Syria and Libya.  Take a look at this one, Guardian, and tell us all about it.  And while you're t it, answer this:  where are the people of Tawerga?

Tweet This Post