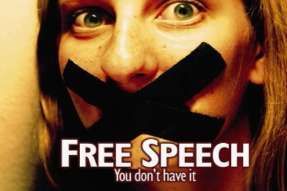 How about this?  The Harper government is reviving the old Soviet system of controlling what scientists say, in this case environmental scientists. (Image: Isaac Mao)  Take a look at this report:
Government media minders are being dispatched to an international polar conference in Montreal to monitor and record what Environment Canada scientists say to reporters.
"If you are approached by the media, ask them for their business card and tell them that you will get back to them with a time for (an) interview," the Environment Canada scientists were told by email late last week.
"Send a message to your media relations contact and they will organize the interview. They will most probably be with you during the interview to assist and record," says the email obtained by Postmedia News.   Vancouver Sun, April 23
Why would Harper this?  Did he mistake 1984 for an instruction manual?  Is he nuts?  No to both.  This is not about control per se, it is bout tr sands, the cruel hoax that promises riches beyond imagination (they think).  Harper probably got word someone would simply tell the truth.
Tweet This Post