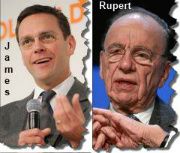 US shareholders worry testimony raises new questions and poses threats to other areas of company's media empire
Dominic Rushe and Jill Treanor
The Guardian

Thursday 26 April 2012 14.19 EDT
Advisers to News Corporation shareholders say they are "deeply troubled" by the performances of Rupert and James Murdoch at the Leveson inquiry into media ethics.
US shareholders are said to be worried that the Murdochs' testimony this week has raised new questions about the management of the company and posed potential threats to other areas of its media empire.
Michael Pryce-Jones, senior policy analyst with Change To Win (CtW), a US advisory group that works with pension funds with over $200bn in assets, said the Murdochs' testimony raised two immediate concerns for shareholders: the future of the firm's control of broadcaster BSkyB and the ethics of top management.
"The big question is what does this mean for BSkyB," he said. "Sky is one of their best assets."
by Michael Collins
Tweet This Post