By Michael Collins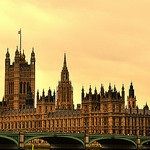 May Day!  How remarkable (even though Rupert Murdoch was denounced by a committee of the House of Commons, not the entire body).   Murdoch is "not a fit person" to run "a major international company," we were told in a report released by the Commons' committee investigating phone hacking on May 1).  He may not be unbalanced, as Murdoch  recently characterized former Prime Minister Gordon Brown, but he's certainly not fit.  (Image)
Here's some of what this means:
1)  There's no way Murdoch will survive the regulatory investigation on his ownership of media in Great Britain..  One of Ofcom's charters (the regulatory body) is to determine if Murdoch is a "fit and proper" person to own BSkyB and other British media properties.
2)  When it looks like Murdoch has to divest the 39% News Corp interest in the highly profitable BSkyB pay TV network, institutional shareholders will Kirk out!  The Sky enterprise amounted to 20% plus of News Corp's 2011 profits.  Oops!
3)   Murdoch won't go gentle into the dark night.  He will become increasingly irrational as seen in his sting operation against his once loyal servant David Cameron.  It is fair to assume that he's got more dirt on public officials than J. Edgar ever had … and he'll start using it.
4)  Murdoch will retain the continued loyalty of the News Corp board (see members listed below).  After the release of the condemnation by the Commons committee, Murdoch's board released a statement expressing "full confidence in Rupert Murdoch's fitness and support for his continuing to lead News Corporation into the future as its Chairman and CEO."
5) Murdoch may get the bums rush out of News Corp as a result of an institutional investor like the Christian Brothers Investment Services which has said it would ask the SEC to change the voting rights of shareholders (Murdoch has outsized representation in voting shares).
Tweet This Post