By Michael Collins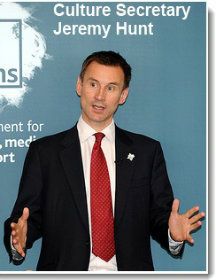 "Cameron continues to insist that the inquiry is the best forum to evaluate Hunt's actions. This signals the beginning of the end for Cameron. He's proposing a solution for the Hunt investigation that is outside the rules of Parliament, in a forum that has rejected him. Upon closer examination, existing evidence will lead to even stronger condemnation of Hunt's behaviour. Any new materials produced by the inquiry will bury him.
"Where will that leave Cameron? Finished!" Michael Collins, Independentaustralia.net May 10, 2012
Queens Counsel Robert Jay unearthed a devastating piece of evidence that will surely create calls for the resignation of both culture secretary Jeremy Hunt and Prime Minister David Cameron.

In afternoon testimony at the Leveson Inquiry today (5/24), Jay confronted News Corp lobbyist Frederic Michel with an email rendition of a Hunt to Cameron memo of November 19, 2010 (see testimony/full memo at end of article). Hunt is clearly cheerleading for the News Corp acquisition of immensely profitable pay TV network BSkyB. News Corp owned 39% of the network and wanted to purchase the remaining 61%. This acquisition was absolutely critical to News Corp profitability and as a sign that Rupert and James Murdoch actually knew what they were doing.
One month after he got the biased memo, Cameron appointed Hunt as the government minister in charge of approving the bid. Hunt portrayed his role as "quasi-judicial" and claimed he was an objective judge. The bid was opposed by an alliance of news organizations.
Now we know, without any doubt and from Hunt's own words that he was biased in favor of approving the News Corp bid before he even got the authority to judge.
We also know that PM Cameron knew Hunt's bias and appointed him anyway.
The Guardian piece by Leigh and Nick Davies (who broke the phone hacking scandal) diplomatically noted that, "It is not known what Cameron did as an immediate result[after receiving the memo from Hunt]."
That's correct, technically. But we do know and the authors mentioned what Cameron did a month after receiving the memo. He put the man who wrote it in charge of a decision making process that was supposed to be inductive, based on reason and evidence. Hunt was one of the last people in Cameron's Conservative government qualified to claim these credentials.
It is not hard to conclude that Cameron and Hunt conspired to push through the Murdoch News Corp BSkyB bid without regard to the facts and through a process that was fraudulently presented to the public and Parliament.
Therefore, they are both subject to calls for resignation, which should start very soon and persist for quite a while.
END
This article may be reproduced with attribution of authorship and a link to this article.
The Money Party – Rupert Watch
Appendix: Guardian Breaking News & Leveson Inquiry testimony of Frederic Michel May 24, 2012
Jeremy Hunt urged PM to allow BSkyB deal weeks before taking charge of bid
David Leigh and Nick Davies
Culture secretary told David Cameron the 'media sector would suffer for years' if News Corp's bid for BSkyB was blocked
The culture secretary, Jeremy Hunt, wrote privately to the prime minister urging him in strong terms to back Rupert Murdoch's takeover bid for BSkyB just a month before David Cameron appointed him to take charge of the bid himself in a "quasi-judicial" capacity.
The intervention by Hunt, who is facing calls for his resignation, was revealed for the first time in a document shown to the Leveson inquiry on Thursday. Hunt urged Cameron not to allow the business secretary, Vince Cable, to block the BSkyB bid despite strong advice to the culture secretary from his own officials that he should not involve himself in the process.
The culture secretary claimed to the prime minister that if the Murdoch bid was blocked "our media sector will suffer for years". He asked for a meeting with Cable and Cameron to discuss the handling of the deal.
The document appears to corroborate the picture that emerges from earlier email exchanges between Hunt's aide Adam Smith and the News Corp lobbyist Frédéric Michel. Those emails document an apparently collusive relationship with the Murdoch empire and have already put Hunt's cabinet position in peril.
=====================
Leveson Inquiry – Frederic Michel confronted with memo sent by culture secretary Hunt to Prime Minister Cameron – recommending approval of the News Corp bid for 100% ownership of BSkyB. Hunt was supposed to be an objective analyst and judge of this issue. The memo shows extreme bias.
Frederic Michel. That's certainly what the email suggests but it's only from looking at that that I would guess that. I can't actually remember.
QC Robert Jay. What it says is: "James Murdoch is pretty furious at Vince's referral to Ofcom."  That had occurred a few days beforehand, hadn't it?
Michel. Yes, I believe so.
Jay. "He doesn't think he will get a fair hearing from Ofcom. I am privately concerned about this because News Corp are very litigious and we could end up in the wrong place in terms of media policy. Essentially what James Murdoch wants to do is to repeat what his father did with the move to Wapping and create the world's first multi-platform media operator, available from paper to web to TV to iPhone to iPad. Isn't this what all media companies have to do ultimately? And if so, we must be very careful that any attempt to block it is done on genuine plurality grounds and not as a result of lobbying by competitors.
"The UK has the chance to lead the way … but if we block it our media sector will suffer for years. In the end I am sure sensible controls can be put into any merger to ensure there is plurality, but I think it would be totally wrong to cave in to the Mark Thomson/ Channel 4/Guardian line that this represents a substantial change of control given that we all kno Sky is controlled by News Corp now anyway.
"What next? Ofcom will issue their report saying whether it needs to go to the Competition Commission by 31 December. It would be totally wrong for the government to get involved in a competition issue which has to be decided at arm's length. However I do think you, I, Vince and the DPM should meet to discuss the policy issues that are thrown up as a result."
Q What did you gather from this memorandum?
Page 74-57 Transcript of Afternoon Hearing 24 May 2012 (pdf, 154KB)
Tweet This Post