By Michael Collins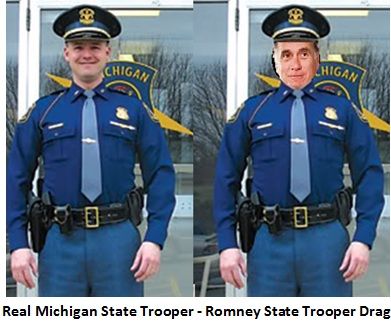 Mitt Romney is adding some spice to an otherwise dull presidential campaign. In May, fellow students at Romney's exclusive Michigan prep school told the Washington Post about Romney's obsession with a gay studentl. After days of rumination, Romney and some friends chased the student down and sat on him while he cut off big chunks of the student's blond hair. (Image)
Now, from a fellow student during Mitt's time at Stanford, we discover that Mitt used to dress up as a state trooper for fun and make traffic stops.
There is little doubt that Romney with a Republican Congress would be a nightmare on social issues. Nevertheless, Romney and Obama are not that far apart on high level issues (welfare for the rich, endless war). On those vital issues for our future, the only interesting thing about the campaign is biographical.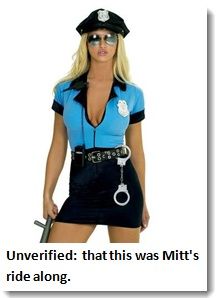 This one is a whopper. Have you ever known anyone who liked to dress like a state trooper and chase down citizens just for fun?
The campaign is between a guy who bullied gay students in prep school and adults in college while dressed as a trooper versus the reigning champion, President Barack Obama, who is spending a good deal of time targeting specific individuals for death via United States drones over Pakistan, etc.
Normal has never looked so good.
END
This article may be reproduced with attribution of authorship and a link to this article.
Tweet This Post