From THE SECOND MILE SANDUSKY SEX SCANDAL  website,  July 18 – some serious analysis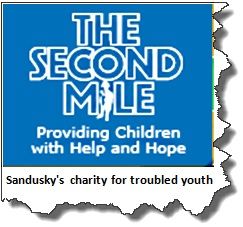 A SMOKING GUN IN THE FREEH REPORT 
that focuses on the real reason Sandusky was not discovered in 1998?. This information comes directly from the Freeh Report and a little research. Freeh's investigators got some good information – but did they fail to connect the dots and follow the trail? This is what I discovered – you will have to determine it's value and impact. I hope it is not divisive since it has little to do with the actions or inaction of Joe, Tim or Gary in 2001 and only involves what could have been known in 1998 but slipped away due to a colossal mistake or a hidden hand.
Brief Summary: In 1998 CYS is replaced by DPW in the Victim 6 investigation and in the process A.Chambers damning psychological evaluation is hidden from DPW investigator Lauro. Instead a CYS counselor who worked with The Second Mile gives a "pedophile free" evaluation over the objection of DA Arnold to Lauro who advises Gricar to close the case. Sandusky goes undiscovered. Sounds downright Machiavellian but the Freeh Report reveals that's what happened. Ironic isn't it? Freeh could have actually cleared Joe and PSU and discovered the real reason that Sandusky was not found out in 1998?
The Second Mile may be up to their necks in this but we will likely never know what they knew. The organizations assets and likely all their files and computers have been taken by Arrow Ministries of Houston headed by a Republican who hails from central Pennsylvania and is close personally with the Governor and other prominent PA Republicans. Arrow Foundation Ministry  and  Arrow to take over Second Mile  see second item down the list.
Also see this outstanding analysis on endemic corruption in Pennsylvania politics and how it harms children are risk by Dr. Charles E. Hill.
The Lamb and the Wolves
Tweet This Post