Michael Collins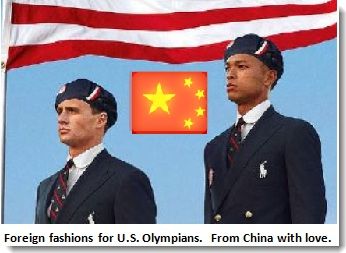 WASHINGTON (AP) — Uniforms for U.S. Olympic athletes are American red, white and blue — but made in China. That has members of Congress fuming.
Republicans and Democrats railed Thursday about the U.S. Olympic Committee's decision to dress the U.S. team in Chinese manufactured berets, blazers and pants while the American textile industry struggles economically with many U.S. workers desperate for jobs.
The U.S. Olympic Committee is the playpen for the ruling elite and the members of Congress who object so strenuously to this idiocy are the very people who enshrined outsourcing.
Praise be to the gods of mirth and comedic pathos.
Tweet This Post