By: Hüsnü Mahalli  alakhbar english
August 9, 2012   Creative Commons
(Turkey: Running its Own Gauntlet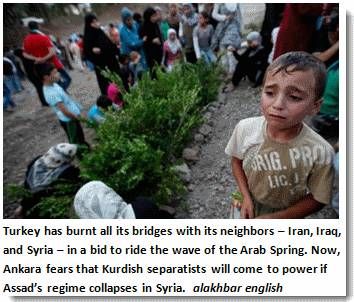 Turkey has burnt all its bridges with its neighbors – Iran, Iraq, and Syria – in a bid to ride the wave of the Arab Spring. Now, Ankara fears that Kurdish separatists will come to power if Assad's regime collapses in Syria.
Istanbul – From the onset of events in Syria, Ankara has displayed relative caution in its relationship with Tehran. But now that the government of Recep Tayyib Erdogan has joined a "Sunni front" with Arab gulf countries, Ankara is being more direct with its Shia neighbor.
Chief of staff of the Iranian armed forces Hassan Firouzabadi recently blamed Turkey, Qatar, and Saudi Arabia for the bloodshed in Syria.
The Turkish government instantly jumped to respond to Firouzabadi's accusations, and at the same time to remarks made earlier by senior Iranian envoy and chief nuclear negotiator Saeed Jalili while on a visit to Damascus.
First came a declaration from Erdogan, followed by a more explicit position from his foreign minister Ahmet Davutoglu. The latter accused Iran of complicity in Syrian president Bashar al-Assad's slaughter of the Syrian people. Read the rest of this entry »
Tweet This Post