By Michael Collins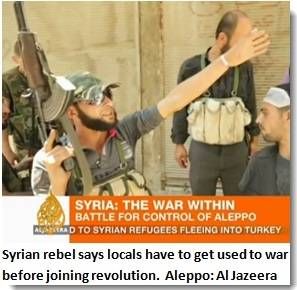 Al Jazeera's weekend coverage of the critical battle for Aleppo, Syria reveals a major obstacle for the United States-NATO Empire Project. Hardly anyone in Aleppo is signing up to fight with rebels.
Syrian rebels get limited support in Aleppo, Al Jazeera, August 11
Reporter Anita McNaught: "[The rebels] know they have to win if the revolution is to succeed but Aleppo was slow to demonstrate any widespread support for the opposition." The reticence was due to fear of Syria's intelligence service a local claimed.
McNaught followed up: "Why now, when the Free Syrian Army was so quickly consolidating its hold, were its ranks not being swelled by volunteers from the city?"
One of the rebels (gesturing in image) responded: "They are afraid of the situation now. It's new to them. It's not like the countryside all around here which has had time to get used to the fighting."  Trauma requires practice.
The government of Qatar owns Al Jazeera. Qatar partnered with NATO in Libya by providing troops on the ground and cash to the Libya rebels. The built in bias gives credibility to the claim of tepid local support. Like the people of Damascus who also kept their distance from rebels, Syrians in Aleppo are not consumed by anti-regime passion. That may have something to do with public polling showing that "most Syrians are in favour of Bashar al-Assad remaining as president." Read the rest of this entry »
Tweet This Post