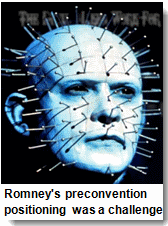 Serious Romney Ethics Violation Exposed: Conflict Of Interest In State Contract To Bain-Backed Firm
Steve Hynd August 17, 2012 – 5:07pm
By now you've all heard that Mitt Romney has rejected the Obama campaign's formal invitation to share the last five years tax returns with voters. The UK's Daily Telegraph has today published an investigation showing one possible reason Romney is so adamant about not divulging, even when it's hurting him so much: he might leave himself open to a jail term.
The Republican presidential candidate appears to have profited from a marketing company that was contracted by the state of Massachusetts after receiving $5 million (£3.2 million) in financial backing from Bain Capital, Mr Romney's investment firm.

One of his vice-presidential candidate's brothers, who is a former Bain consultant, was at the time of the investment a senior executive at the marketing company, Imagitas, which was co-founded by another former Bain executive.

Both Mr Romney and Tobin Ryan, who omits his work at Imagitas from his corporate biography, also apparently stood to benefit from the $230 million (£146 million) sale of the company in 2005, while Mr Romney remained in office.

Massachusetts law requires that all state employees divest themselves of financial interests in private sector contracts with state agencies. At the time, failure to do so could have resulted in a $2,000 (£1,273) fine or a 2.5-year prison sentence. The potential punishments are now stronger.

Asked repeatedly by The Daily Telegraph throughout this week whether Mr Romney had indeed profited from the company, had been aware of the potential conflict of interest, or had taken any action to avoid one, his campaign and Bain Capital declined to comment.
First lesson for The Great Mittsby: don't stand on the PM's doorstep and rubbish the London Olympics if you don't want the Brit conservative press muckrackers up to this kind of thing.  More at The Agonist   Read the rest of this entry »
Tweet This Post