By Michael Collins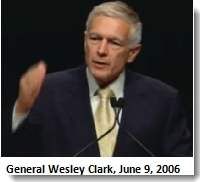 Was the failure to prevent 9/11 the core motivation for invading Iraq?
Immediately following the 9/11 attack, retired General Wesley Clark talked with the late Tim Russert of NBC about a call he'd received just after the 9/11 attack. A member of a foreign think tank called Clark on his cell phone. He wanted Clark to claim that the attack originated in Iraq at the direction of Saddam Hussein. Clark isn't used to taking orders from strangers or anyone else. But he was curious about this call to his private cell phone number. He asked the caller to provide some evidence to support his claim. The call ended quickly without the required evidence and that was that.
Apparently Gen. Clark gave the motivation for the Iraq war a great deal of thought over the years. At a major speech in Texas in 2006 the general said:
"Now why am I going back over ancient history? Because it's not ancient, because we went to war in Iraq to cover up the command negligence that led to 9/11, and it was a war we didn't have to fight. That's the truth …

I've been in war, I don't believe in it, and you don't do it unless there is absolutely, absolutely, absolutely no alternative."[1]

Command: (DOD) 1. Command includes the authority and responsibility for effectively using available resources and for planning the employment of, organizing, directing, coordinating, and controlling military forces for the accomplishment of assigned missions. It also includes responsibility for health, welfare, morale, and discipline of assigned personnel.[2]

Negligence: failure to exercise the care that a reasonably prudent person would exercise in like circumstances.[3]
In March 2003, there were alternatives to invading Iraq. These included peace offers by the government of Iraq. They'd felt the lash of the United States military in the first Gulf War and had no desire for a rematch.
We've heard any number of explanations rationalizing the invasion. The very fact that the reasons kept shifting again and again indicate the lack of sincerity for each rationale. What kind of leader invades and occupies another nation with constantly shifting excuses?
After it was clear that there were no weapons of mass destruction to be found, we herd rotating rationales for the calamitous invasion and aftermath.
If we invaded to create democracy, why didn't we leave when 80% of Iraqi civilians wanted us to leave?
Another invasion rational was that invaded was to reduce the terrorist threat. If so, why did a country that barred terrorists under the dictator Hussein suddenly become terror-central for foreigners from Saudi Arabia and other anti-American hot beds throughout the Muslim world?
If we intended to protect Iraqis from the violence of Hussein and his regime, why did we violently torture Iraqi's at Abu Ghraib and allow civil war caused by the invasion to take the lives of over 1,000,000 Iraqis [4] [5]
There is a consensus among war critics that the real motivation for the Iraq invasion was access to Iraq's rich oil fields. Vice President Cheney has fought for years to keep his pre-invasion meeting with oil executives confidential. He succeeded but there have been enough leaks to speculate that they were carving up Iraq's oil reserves to replace the existing set of contracts held by foreign oil companies, none of which included the United States. Executives of the major U.S. oil companies denied attending any such meeting with Cheney in testimony before Congress. But in late 2005, a White House document revealed a Cheney meeting with many of the companies.[6]
But that explanation is less than persuasive in view of events since the invasion. We're not extracting much oil from Iraq. The process has been delayed on numerous occasions. If the goal had been oil, it would be flowing out of Iraq at any pace we chose
Was the true motivation of the invasion a hunt to find weapons of mass destruction (WMD)? There was general knowledge that there were no WMD to be found in Iraq before the invasion.[7] The United Nations weapons inspectors were unable to find any signs in the weeks before the invasion. . They asked that their work continue to reach an overwhelming point of certainty.
But that wasn't good enough for the Bush administration. They ordered the weapons investigators out, despite reported cooperation by Iraq, and proceeded to unleash their "shock and awe" style attack.[8] The invasion was necessary to the Bush administration. All the inspectors cold do was find reasons not to invade and reason was in short supply.
The absence of strong verification for the invasion lends real credibility to General Clark's argument:
"We went to war in Iraq to cover up the command negligence that led to 9/11."
If we accept General Clark's argument, the failure to stop 9/11, the command negligence must be so extensive and profound that the total distraction of a war based on falsified intelligence and deliberate lies would be easier to deal with than "the truth."
Clark's explanation for the invasion is the most provocative and it is unique among both the upper echelons of the military-industrial establishment and the broad expanse of the citizen based 9/11 Truth community.
Those who had sworn to protect the country were led by rulers who would stop at nothing to avoid taking the blame for 9/11.
They couldn't take the blame because release the truth demonstrates an undeniably profound negligence by the commander in chief and his top subordinates was simply too awful to contemplate by those responsible. The fact that they stayed in power explains why they got away with the cover-up.
How do we know this?
9/11 and the Truth
In March 2003, catching Osama Bin Laden and preventing another 9/11 were the initial rationales for invading Iraq; a country that we now know had nothing to do with the events 19 months earlier in New York City. The White House took the ball and ran the wrong way in the most important foreign affairs effort in modern history. We wanted to catch Osama bin Laden. Instead we invaded a country where he could never be found, at least alive. Everyone agreed on that except the few in charge who broke every rule and got their war despite the facts and the interests of the American people.
The spirit and fear of September 11, 2001 had been fixed in the minds of almost every citizen. We knew exactly where we were on 9/11 and what we did. It was the most nationally unifying event in recent history. The only comparison was the day that President John F. Kennedy was murdered in Dallas, Texas.
Today, the vast majority of citizens have no sense of security or satisfaction that we've been told the entire truth about 9/11. Everyone knows that the guilty, wherever they are, have not been punished. They are still out there plotting for all we know.
Weeks before the 2003 Iraq invasion, Collin Powell waved a vile of powder at the United Nations and said, without an invasion; Saddam Hussein would use at least his chemical weapons stockpile to attack Europe and the United States. President Bush spoke in solemn, even coherent terms, to the same gathering of the United Nations, when he urged the organization's support for a US invasion.
It was a fearsome show. Our lives depended on invading Iraq, quite literally. The public wisdom was supreme before the invasion. Solid majorities of Democrats and Republicans were smart enough to demand that weapons inspectors find actual weapons before a world changing invasion was authorized.
The fear generated by nuclear weapons, chemical weapons, and the "he's coming to get you" fabrications were enough to turn the tide from pubic wisdom to reluctant acceptance. It was all based on 9/11. Never again, we were told.
But citizens have a mind of their own. Shortly after September 11, 2001, a movement called 9/11 Truth emerged. All over the country, citizens began putting together pieces of the Complete 9/11 Timeline,[9] as author Paul Thomas of History Commons called it. Some of the researchers raised major questions on the public version of events, others unearthed new information and still, and a tiny minority of the community tilted at windmills. A few wild theories of this tiny subset of 9/11 Truth was used by the mainstream media to discredit the entire 9/11 Truth movement.
By the time the Iraq War had turned sour and we figured out that Osama bin Laden was nowhere to be found or dead, the public support for the war dropped rapidly. The White House convened investigations on the disastrous invasion which featured the CIA as "bad guy" for failing to let the president know that there were no WMD.
Skepticism was also running high about 9/11. There had been only one investigation, the 2002 Joint House Senate Inquiry on 9/11. This was buried in record time despite the extensive findings. Public opinion was solidly in favor of a 9/11 investigation.
The wives of 9/11 victims, known as the 'Jersey Girls," took on President Bush and Vice President Cheney in the court of public opinion. Not bashful, these New Jersey suburban widows began a movement that literally shamed Congress into doing what it supposedly wanted to do — set up an investigation called the 9/11 Commission. The outcome will be discussed at the end of the chapter. But we know this much: the most important parts of that report were blacked out, unavailable for the citizens who had a right to know, citizens who had paid for the report. The remainder was an anticlimax.
John Zogby was the only pollster who would go near 9/11. In two national polls, Zogby found out that a majority of citizens doubted the official conclusions of the report. How did we the people come to that conclusion? The report was incomplete and there those blacked out pages that we couldn't see the told the tale of who really funded the operation.
Zogby did a poll of New York City residents just before the 2004 Republican National Convention. His survey was a shocker: 50% of those interviewed believed that high level figures in the federal government knew about the attacks and did nothing to prevent them.[10]
A 2006 CNN/Gallup Poll found that the attitude of New Yorkers had gone nationwide. CNN reported:
"Asked whether they blame the Bush administration for the attacks, 45 percent said either a "great deal" or a "moderate amount," up from 32 percent in a June 2002 CNN/USA Today/Gallup poll.[11]
This public reaction is the nightmare scenario that drove the massive effort to keep 9/11 marginalized as a "conspiracy theory," one not worthy of investigation. That didn't deter the public. The 9/11 Commission report had little positive impact. By 2006, the public had turned on that effort as well.
Kansas City, MO (Zogby International) September 6, 2007 – As America nears the sixth anniversary of the world-churning events of September 11, 2001, a new Zogby International poll finds a majority of Americans still await a Congressional investigation of President Bush' and Vice President Cheney's actions before, during and after the 9/11 attacks. Over 30% also believe Bush and/or Cheney should be immediately impeached by the House of Representative[12]
The aftermath of 9/11 created so many questions. The most important question was could it have been prevented? Knowing who did it is extremely important. But had we been able to prevent 9/11, there would not have been single objection just about anywhere.
Funding those who would kill us — Afghanistan freedom fighters and a project to use airplanes to attack the United States
Before the 9/11 was even contemplated by al Qaeda, the United States began secretly funding resistance fighters in Afghanistan in 1978. The Soviet invasion and occupation of that country in 1978 was a shock to the Carter administration. Carter's foreign policy adviser, Zbigniew Brzezinski went ballistic. He said that the Soviet move as upsetting what he perceived to be the regional balance of power that once favored the United States. Iran had just fallen under the rule of the Ayatollah Khomeini and his anti US regime. Now Afghanistan had fallen.
As Secretary of State Hillary Clinton pointed out in recent testimony before Congress, "Let's remember here… the people we are fighting today (in Afghanistan) we funded them twenty years ago… and we did it because we were locked in a struggle with the Soviet Union."[13]
Respected journalist Ahmed Rashid noted that during the Reagan administration the "CIA chief William Casey committed CIA support to a long-standing ISI initiative to recruit radical Muslims from around the world to come to Pakistan and fight with the Afghan Mujahideen."[14]  A prime recruiting area was the sparsely populated, conservative Muslim population in Pakistan's border provinces. Ramzi Yousef was born near the Pakistan-Afghanistan border and his family was right in the middle of the cultural milieu that produced the radical Muslims that the U.S. and Pakistan recruited, trained and funded.
Bin Laden was a key player in the radical Muslim fight against the Soviets in Afghanistan. As the Soviets left Afghanistan in defeat, a core group of the radical Muslims that the United States supported and funded began plotting against their supporter.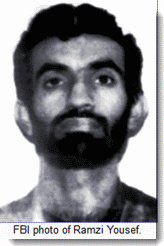 Project Bojinka[15] represents the model for the September 11, 2001 attacks on New York City and Washington, DC. It was hatched and developed by Yousef in Manila, the capitol of the Philippines. The plan centered on attacking the United States using commercial airplanes. Eleven commercial jets were to be hijacked on the same day, with some of them used as missiles to attack key government buildings. These included the White House, CIA headquarters, and other national symbols. (Wikicommons Image: Yousef)
Philippines police struck gold when they broke up a meeting of suspected Muslim terrorists in Manila, during 1995. They'd suspected that a visiting al Qaeda bomb maker, Ramzi Yousef was involved in several local terrorist bombings. He stood trial in 1997 and was also convicted for his role as a major conspirator in the 1993 bombing.
Yousef is a central character to the history of al Qaeda, 9/11, and the Iraq invasion. He was a tactical mastermind with exceptional gifts for creating chaos and misery. Yousef spoke seven languages fluently and graduated with an electrical engineering degree from Swansea University in Wales, England. He joined al Qaeda in 1988 and became a bomb maker while attending one of their training camps.
They arrested him, confiscated his computer, and then enlisted the assistance of a local computer expert who decoded the information on the hard drive. They discovered evidence of the project. This was the tactical model for 9/11. They arrested him, confiscated his computer, and then enlisted the assistance of a local computer expert who decoded the information on the hard drive. They discovered evidence of the project. This was the tactical model for 9/11. The contents of Yousef's computer were so valuable, the were used to try and convict him for his role in the 1993 World Trade Center bombing cases brought against him in New York. He was convicted in 1996 and 1997 in separate trials for plotting and the 1993 bombing of the World Trade Center.
Starting in the late 1970′s, Osama Bin Laden's brother in law had been funding the development of Muslim resistance fighters who sought independence from the predominantly Catholic Philippines. It was part of Osama Bin Laden's master plan to resist the United States wherever it came into conflict with Muslims. In the Philippines, we supported the government that was fighting Muslim separatists. That was enough.
After the 1993 World Trade Center bombing, the FBI agent in charge, Neil Herman, found evidence of phone contact between Bin Laden and Yousef or someone using his phone. There were numerous other leads.
In summary, the Bin Laden family had been funding terrorism since the late 1970′s in the Philippines directed against the United States and its allies.
Strong Evidence for General Clark's argument on 9/11 "command negligence"
To evaluate Clark's assertion that the Iraq invasion was a diversion from a 9/11 "command failure," let's look at three levels of proof. There are many more details available, but the three considered should make the point. The administration had something to hide.
1. The White House Knew about 9/11 Style Terrorist Attacks
The United States military command practiced responses to attacks on major buildings, including the World Trade Center, between 1999 and 2001. Well before 1999, the intelligence community was aware of the master plot to hijack commercial airplanes and use them as weapons. While major elements of the U.S. air command were involved in war games exercise in Canada and Alaska from September 10 – 14th, the United States Air Force was in a state of heightened alert. Yet no one could tell those who would have defended the country that the 9/11 attack was for-real and required an urgent response. This is the first example of "command negligence," as General Clark described it; a truth that was so horrible for the Bush-Cheney regime, they were prepared to do anything to divert attention from their failure.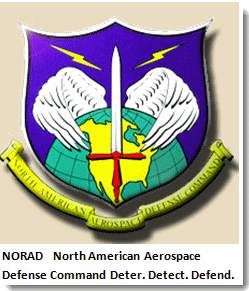 NORAD had drills of jets as weapons

By Steven Komarow and Tom Squitieri, USA TODAY April 4, 2004

WASHINGTON — In the two years before the Sept. 11 attacks, the North American Aerospace Defense Command conducted exercises simulating what the White House says was unimaginable at the time: hijacked airliners used as weapons to crash into targets and cause mass casualties.

One of the imagined targets was the World Trade Center. In another exercise, jets performed a mock shootdown over the Atlantic Ocean of a jet supposedly laden with chemical poisons headed toward a target in the United States. In a third scenario, the target was the Pentagon — but that drill was not run after Defense officials said it was unrealistic, NORAD and Defense officials say.

NORAD, in a written statement, confirmed that such hijacking exercises occurred. It said the scenarios outlined were regional drills, not regularly scheduled continent-wide exercises.  (Image: NORAD)
That part of the military responsible for defending the skies over the United States ran simulated attacks on major landmarks before 9/11. Why would they do that? Could it have been the documented reports of plans to use airplanes as weapons against the country? The military knew about Project Bojinka and Ramzi Yousef's master plan to hijack Yousef's deranged and diabolical plan was no secret. It came out in testimony in his trial in federal court in 1996.
The head of the CIA's anti-terrorism unit certainly noticed Yousef's plan to use airplanes as weapons:
"Vince Cannistraro, former director of the CIA's Counter terrorism Division calls it, 'Extraordinarily ambitious, very complicated to bring off, and probably unparalleled by other terrorist operations that we know of.' "[16]
There were NORAD "drills" on the use of airplanes as weapons between 1999 and 2001. The head of the CIA's anti-terrorism unit acknowledging the extremely serious nature of the specific plan to use airplanes as weapons outlined in Yousef's Project Bojinka. The military and intelligence agencies knew that the architect of this plan, Ramzi Yousef, had been a major plotter in the 1993 World Trade Center bombing. They also knew that al Qaeda was the group that had ordered that attack making the relationship between Yousef and al Qaeda obvious. Most telling, the military had simulated an attack on the two targets on 9/11, the World Trade Center and the Pentagon.
On September 9, 2001, the Air Force announced operation "Northern Vigilance" to the public. This major exercise was a response to a Russian military exercise near Alaska. The US Air Force was simulating the protection of North American air space as though the Russians were attacking. The exercise included having the nation on high alert, as well. The exercise was planned from Sept. 10 through 14, 2001. The United States and the former Soviet Union, now Russia, frequently planed military exercises to coincide with one another. This was one of those instances.
NORAD News

North American Aerospace Command (NORAD) Maintains Northern Vigilance
Sept. 9, 2001

CHEYENNE MOUNTAIN AFS, Colo. – The North American Aerospace Defense Command shall deploy fighter aircraft as necessary to Forward Operating Locations (FOLS) in Alaska and Northern Canada to monitor a Russian air force exercise in the Russian arctic and North Pacific ocean.
"NORAD is the eyes and ears of North America and it is our mission to ensure that our air sovereignty is maintained," said Lieutenant-General Ken Pennie, Deputy Commander-in-Chief of NORAD. "Although it is highly unlikely that Russian aircraft would purposely violate Canadian or American airspace, our mission of vigilance must be sustained."
NORAD-allocated forces will remain in place until the end of the Russian exercise.[17]
While significant US Air Force resources were in Canada and Alaska for operation "Northern Vigilance," the US Air Force was on high alert throughout the continental United States. Air Force sources claimed that on 9/11, there was confusion about the attacks on New York and Washington, DC. Specifically, the regional NORAD commander for New York and Washington, DC reported that some at NORAD thought the 9/11 attacks were part of an exercise.
"In retrospect, the exercise would prove (should have proved) to be a serendipitous enabler of a rapid military response to terrorist attacks on September 11." [18] Colonel Robert Marr, in charge of NEADS, said: "We had the fighters with a little more gas on board. A few more weapons on board."[19] However, Deskins and other NORAD officials later are initially confused about whether the 9/11 attacks are real or part of the exercise.[20]
At the height of a period when US and foreign intelligence sources around the world thought that there would be a massive terrorist attack in New York City, the US Air Force was locked and loaded, concentrating on a major military exercise with the Soviet Union.[21] The transfer of forces to Canada and Alaska didn't cripple the United States. The entire Air Force was on alert from September 10 through the 14th.[22] Had communication been effective between those who first spotted the attack and NORAD, the Air Force would have done better than one fighter pilot dispatched to lower Manhattan and another to Washington, DC.
"No one knew specifically that 20 people would hijack four airliners and use them for suicide attacks against major buildings," he said, "but the idea of such an attack was well known, had been war gamed as a possibility in exercises before Sept. 11.""'9/11 was an organizational, not an intelligence, failure,' he said." John Arquilla, Naval Postgraduate School, Monterey Herald, July 18, 2002[23]
The government had all the information that it needed to anticipate an attack in New York and Washington, DC. But the ability to alert NORAD and have the alert taken seriously failed. Ironically, before 9/11, Defense Secretary Rumsfeld had sought to reduce the number of fighter jets responsible for protecting the 48 states.[24]
The most powerful air force ever was badly misused on 9/11. It is difficult to comprehend how the northeastern Air Force command could fail to distinguish between an exercise and a real attack.
The Commander in Chief's response at the start of the attack was unbelievable. At a town hall meeting in Florida the day after 9/11, Bush had this exchange with a young audience member:
Q One thing, Mr. President, is that you have no idea how much you've done for this country. And another thing is that — how did you feel when you heard about the terrorist attack?

PRESIDENT BUSH: Well — (applause) — thank you, Jordan.

Well, Jordan, you're not going to believe where — what state I was in when I heard about the terrorist attack. I was in Florida. And my chief of staff, Andy Card — well, actually I was in a classroom, talking about a reading program that works. And it — I was sitting outside the — the classroom, waiting to go in, and I saw an airplane hit the tower of a — of a — you know, the TV was obviously on, and I — I used to fly myself, and I said, "Well, there's one terrible pilot." And I said it must have been a horrible accident. Pres. George W. Bush, Florida Town Hall Meeting, Sept 12, 2001[25]
The statement is largely incoherent. Bush somehow translates the child questioner's "how did you feel when you heard about the terrorist attack" to a more concrete "what state I was in when I heard about the terrorist attack" — Florida. He interjects a seemingly random comment about Andy Card, and barely makes it through the answer. But that was the type of rhetoric that was expected by those who followed him closely.
The glaring flaw in the Bush statement on the day after 9/11 reflects his lack of contact with reality. He claimed he saw footage of the first plane crashing into the World Trade Tower on the television at Booker Elementary School on September 11, 2001. That was simply impossible since the broadcast television showing the impact of the first plane didn't appear on television until September 12, 2001.[26]
He repeated the same claim about seeing planes hit the buildings a few days later. This shows that either his staff didn't pick up on his mistake and correct him or they did, and Bush ignored them. In either case, his timeline made no sense.
The Commander in Chief is at the top of the U.S. military command. The buck stops on his desk. A few days after 9/11, Bush made this factually incorrect statement indicating that he simply didn't know when he first saw the attacks. He never commented on operation "Northern Vigilance" nor did he ever mention the military exercises designed to deal with a 9/11 style attack. He never mentioned how few military aircraft were available to cover the entire United States.[27]
Most significant and revealing is the absence of any statement regarding the extensive pre-9/11 intelligence on plans to use airplanes as weapons against major landmarks.
The extent of the negligence is breathtaking. These "the adults," the leaders whom we were so fortunate to have in a crisis? Like so many stories, the owners of the mainstream media missed the mark on the most important story in modern times.
2.  The Congressional Investigation Everyone Forgot
In 2002, the House-Senate Joint Inquiry on 9/11 issued its findings. It outlined the extensive intelligence on al Qaeda gathered by hard working, bright and dedicated intelligence agents and assets. The statement shows clearly that US intelligence was not only adequate; it was outstanding on the threat posed by al Qaeda. It also stands as a clear indictment of "command negligence." How could any commander in chief allow this information to go unused?
The following bullets are just a few of the many findings in what's been called the Hill report after its author, Eleanor Hill, a former senior congressional staffer. The report is quite real and compelling despite the failure of the mainstream media to feature it.
U.S. INTEL KNOWLEDGE OF BIN LADEN
House-Senate Joint Inquiry on 9/11, September, 2002[28]
· In June 1998, the Intelligence Communality obtained information from several sources that Osama bin Laden was considering attacks in the U.S., including Washington, DC and New York. This information was provided to senior U.S. Government officials in July 1998;
· In August 1998, the Intelligence Community obtained information that a group of unidentified Arabs planned to fly an explosive-laden plane from a foreign country into the World Trade Center. The information was passed to the FBI and the FAA. … The Intelligence Community has acquired additional information since then indicating there may be links between this group and other terrorist groups, including al Qaeda;
· In September 1998, the Intelligence Community prepared a memorandum detailing al Qaeda infrastructure in the United States, including the use of fronts for terrorist activities. This information was provided to senior U.S. Government officials in September 1998;
· In September 1998, the Intelligence Community obtained information that Osama Bin Laden's next operation could possibly involve flying an aircraft loaded with explosives into a U.S. airport and detonating it; this information was provided to senior U.S. Government officials in late 1998;
· In the fall of 1998, the Intelligence Community received information concerning a Bin Laden plot involving aircraft in the New York and Washington, DC areas;
· In November 1998, the Intelligence Community obtained information that a Bin Laden terrorist cell was attempting to recruit a group of five to seven young men from the United States to travel to the Middle East for training.
This was in conjunction with planning to strike U.S. domestic targets; why wasn't this page one news on and after September 2002 when Eleanor Hill's report was released? It was no secret. In fact, the right wing bloggers began a sustained series of defamatory attacks on Eleanor Hill and her motivations. This was one disaster where Bill Clinton couldn't be blamed. The information was available from day one of the Bush administration. But there's more.
· In March 2001, an intelligence source claimed a group of Bin Laden operatives were planning to conduct an unspecified attack in the United States in April 2001. One of the operatives allegedly resided in the United States;
· In April 2001, the Intelligence Community obtained information that unspecified terrorist operatives in California and New York State were planning a terrorist attack in those states for April;
· Between May and July (2001), the National Security Agency reported at least 33 communications indicating a possible, imminent terrorist attack. None of these reports provided any specific information on where, when, or how an attack might occur, nor was it clear that any of the individuals involved in these intercepted communications had any first-hand knowledge of where, when, or how an attack might occur. If they did know, it was not evident in the intercepts. These reports were widely disseminated within the Intelligence Community;
· In May 2001, the Intelligence Community obtained information that supporters of Osama bin Laden were reportedly planning to infiltrate the United States via Canada in order to carry out a terrorist operation using high explosives. This report mentioned an attack within the United States [29]
By May 2001, we have reached the point at which U.S. intelligence has gathered sufficient information to show that Bin Laden was planning an imminent attack on key landmarks including the World Trade Center.
· In May 2001, the Department of Defense acquired and shared with other elements of the Intelligence Community information indicating that seven individuals associated with Osama bin Laden departed various locations for Canada, the United Kingdom, and the United States;
· In June 2001, the Dice's (Director of Central Intelligence) CTC had information that key operatives in Osama Bin Laden's organization were disappearing while others were preparing for martyrdom;
· In July 2001, the DCI's CTC was aware of an individual who had recently been in Afghanistan who had reported, "Everyone is talking about an impending attack." The Intelligence Community was also aware that Bin Laden had stepped up his propaganda efforts in the preceding months;
· On August 16, 2001, in Minneapolis, Minnesota, the INS detained Zacarias Moussaoui. Prior to that date, in August 2001 …. On September 4, 2001, the FBI sent a cable about the Moussaoui investigation to the Intelligence Community, including the Federal Aviation Administration (FAA), the Secret Service, and several other agencies. … The teletype also did not recommend that the addressees take any action or look for any additional indicators of a terrorist attack. The events surrounding Mr. Moussaoui's detention will be discussed in greater detail in a future statement; (Despite urgent warnings from the Minneapolis FBI office about Moussaoui's likely involvement in terror operations, the Attorney General John Ashcroft declined to get a nearly automatic warrant to search his computer from the secret intelligence federal court.)
· In late summer 2001, the Intelligence Community obtained information that an individual associated with al Qaeda was considering mounting terrorist operations in the United States. There was no information available as to the timing of possible attacks or on the alleged targets in the United States; and
· On September 10, 2001, NSA intercepted two communications between individuals abroad suggesting imminent terrorist activity. These communications were not translated into English and disseminated until September 12, 2001. These intercepts did not provide any indication of where, when, or what activities might occur. Taken in their entirety, it is unclear whether they were referring to the September 11 attacks.[30]
How much more information did the Commander in Chief and his lieutenants need in order to take fundamental protective steps.
When a small aircraft buzzed the White House in the 1980′s, missiles were placed on the roof to shoot down any future aircraft that came too close. Just a couple of months before 9/11, world leaders gathered for economic summit in Milan, Italy. Intelligence showed that there was a terrorist plan to attack the leaders by crashing an airplane into the conference building. As a result, Milan was heavily fortified with anti-aircraft missiles along with significant NATO air force protection.
Didn't all of this highly specific intelligence warrant a few missile batteries on top of the World Trade Towers and the Pentagon?
What kind of command structure has this wealth of information at hand and then fails to mount a major offensive against al Qaeda as its planned attack became imminent in the summer of 2001?
What word comes to mind to describe the failures of a command structure that would sit on its hands and let this attack go forward without any protection offered to citizens or the country?
3. Delayed Investigation by the White House
The White House pushed very hard as long as it could to avoid an investigation of 9/11. When the 9/11 Commission was formed, the White House made sure it had a budget that was nowhere near what was needed to seriously investigate events. When the commission staff director was selected, the White House made sure it was someone who was loyal to the White House and had a great deal to lose if the truth came out.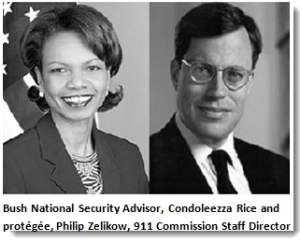 Blue ribbon commissions are a trademark of the federal government. When a topic is too hot for Congress to handle, a commission of distinguished officials is formed from the ranks of both political parties. But Bush and Cheney wanted no part of an investigation of 9/11. Bush called up then Senate Majority Leader, Tom Daschle (D-ND) and asked him to limit the investigation to communication failures between agencies. Cheney spoke to Daschle, which the Senator described clearly:[31]
"The vice president expressed the concern that a review of what happened on September 11 would take resources and personnel away from the effort in the war on terrorism," Daschle told reporters.
The White House tried to starve the Commission of funds, refusing even an $11 million budget, a pittance compared to what's spent daily by Congress on far less important tasks.  (Wikicommons Images:  Rice, Zelikow)
Once the commission was formed, the White House had little to worry about since a Bush-Cheney insider was selected for the important job of staff director. Phillip Zelikow was a close colleague and professional partner of Condi Rice. They wrote a book together on foreign policy.
Rice brought Zelikow in to the Bush 2000 transition team. An academic of some distinction, Zelikow authored two position papers for the Bush transition team. One was managing terrorist threats and the other justified a preemptive invasion of Iraq.
Zelikow was neck deep in the very policies that resulted in the command negligence for 9/11 and the failed preemptive invasion of Iraq. What kind of staff director would we expect from someone with this political baggage? Clearly, Phillip Zelikow had a great deal to fear from even the mention of the evidence discussed in just this chapter.
What does it say about the bipartisan cochairmen of the Commission? They hired Zelikow. Well after the commission's report was issued, the media finally pointed out this conflicts of interest. Commission cochairmen Lee Hamilton (D-IN) and former governor of New Jersey Tom Kean (R-NJ) said they were shocked, just shocked that Zelikow brought such partisanship to the job. Had the known, they'd have picked someone neutral to inspire public confidence.
In order to believe this, we need to believe that these two consummate insiders knew nothing of the Bush transition. We also have to believe that they lacked the personal skills or the staff to simply Google Zelikow bush transition 2000. They would have received about 50 hits describing Zelikow's key role in the transition, his connections to Condi Rice, and his integral role that he played in defining the Bush-Cheney policies on terrorism and the brand new foreign policy of invading nations on a notion.
While US intelligence continued to gather and share strong evidence that al Qaeda intended to attack the nation, New York City in particular, President George W. Bush were resolute in their refusal to exercise his obligations as Commander in Chief to protect the nation.
The clear negligence revealed by just the summary of information and analysis revealing an imminent attack on 9/11 was a well-kept secret until the Joint Inquiry of 2002. But the White House spin machine made that report disappear by claiming partisanship. Hill was nominal Democrat. After they were unable to stop the 9/11 Commission, the White House inserted their "mole," Phillip Zelikow, as staff director. He had as much to lose as the command structure. He did his job to the limits of perfection. Nothing would emerge from the report that would even begin to implicate him and his masters.
It's a sad story, one that still imperils the nation, and it's all based on deliberate deceit and deception to cover up what General Wesley Clark describe so succinctly -
There is strong evidence supporting General Clark's claim that we went to war in Iraq to cover up the command negligence that led to 9/11.
END
This article may be reposted with attribution of authorship and a link to this article.
---
Clark, Wesley, Keynote: Texas Democratic Party Convention General Wesley K Clark. June 9, 2006. At 17:00 Link: http://youtu.be/JpMV2G3TajA
[2] DOD Dictionary of Military and Associated Terms (JP 1-02). April 12, 2001, as amended through April 2010.
[3] Miriam Webster Online Dictionary, 2010
[4] Public Health News Center, Updated Iraq Survey Affirms Earlier Mortality Estimates, Public Health Newsletter. Bloomberg School of Public Health, Johns Hopkins University, October 11, 2006.
[5] Opinion Research Business, ORB survey of Iraq War casualties. 2007 and 2008.
[6] Milbank, Dana and Blum, Justin, Document Says Oil Chiefs Met With Cheney Task Force. Washington Post, November 16, 2005
[7] Center for American Progress, Neglecting Intelligence, Ignoring Warnings. January 28, 2004.
[8] Staff, U.S advises weapons inspectors to leave Iraq. USA Today, March 17, 2003.
[9] History Commons, Complete 9/11 Timeline. 2010.
[10] Staff, Half of New Yorkers Believe US Leaders Had Foreknowledge of Impending 9-11 Attacks and "Consciously Failed" To Act; 66% Call For New Probe of Unanswered Questions by Congress or New York's Attorney General, New Zogby International Poll Reveals. Zogby International, August 30, 2004.
[11] Staff, Poll: More Americans blame Bush for 9/11. CNN.com, September 11, 2006
[12] Zogby International, Zogby Poll: 51% of Americans Want Congress to Probe Bush/Cheney Regarding 9/11 Attacks; Over 30% Seek Immediate Impeachment. 9/11Truth.Org, September 11, 2007
[13] Iqba, Anwar, US created Taliban and abandoned Pakistan: Clinton. DAWN Media Group, April 25, 2009.
[14] Zunes, Stephen, The U.S. and Afghan Tragedy. Stephen Zunes, March 18, 2009
[15] Ahmed , Nafeez Mosaddeq, Warning Signs of 9-11 and Intelligence Failures. Media Monitors, July 1, 2002
[16] Komarow, Steven and Squitieri, Tom, NORAD had drills of jets as weapons. USA Today, April 18, 2004.
[17] Scott, William B., Exercise Jump-Starts Response to Attacks. Aviation Week, June 4, 2002.
[18] Scott, William B., Exercise Jump-Starts Response to Attacks. Aviation Week, June 4, 2002.
[19] Complete 9/11 Timeline, (6:30 a.m.) September 11, 2001: NORAD on Alert for Emergency Exercises, Peter Jennings 9/11 Interviews, ABC News. History Commons, 2010.
[20] Complete 9/11 Timeline, (6:30 a.m.) September 11, 2001: NORAD on Alert for Emergency Exercises. History Commons, 2010.
[21] Complete 9/11 Timeline, 1981-1992: Cheney and Rumsfeld Practice Secret Continuity of Government Plan, Later Activated on 9/11. History Commons, 2010.
[22] Complete 9/11 Timeline, (6:30 a.m.) September 11, 2001: NORAD on Alert for Emergency Exercises. History Commons, 2010.
[23] Howe, Kevin, Expert stresses need for intelligence, Monterey Herald.com, July 18, 2002
[24] Scott, William B., Exercise Jump-Starts Response to Attacks. Aviation Week, June 4, 2002.
[25] Bush, George W., Headline Remarks by President George W. Bush at Town Hall Meeting, Orlando, Florida, White House, December 4, 2001.
[26] Wood, Allan and Thompson, Paul. An Interesting Day: President Bush's Movements and Actions on 9/11. History Commons, 2010.
[27] Brian Donovan and Craig Gordon , Air Attack on Pentagon Indicates Weaknesses By Sylvia Adcock, Newsday, September 23, 2001.
[28]  Eleanor Hill, Staff Director, Joint Inquiry Staff Statement, Forward, Part I, September 18, 2002.  Link: http://www.fas.org/irp/congress/2002_hr/091802hill.html   Full Report: Senate Select Committee on Intelligence and the House Permanent Select Committee on Intelligence, Congressional Reports: Joint Inquiry into Intelligence Community Activities before and after the Terrorist Attacks of September 11, 2001. Government Printing Office, December 20, 2002.  Link: http://www.fas.org/irp/congress/2002_hr/index.html#joint
[31] CNN.com/Inside Politics, Bush asks Daschle to limit Sept. 11 probes. CNN.com, January 29, 2002.
Tweet This Post