By Michael Collins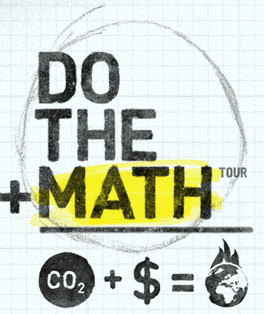 (Washington, DC 11/18)  Bill McKibben, founder of 350.org. had some tough words for the oil giants at the organization's events in the nation's capital.   He announced to a packed house at the Warner Theater, "We're going after the fossil fuel industry" for trying to wreck the future.  It's that simple.  He argued that we have a choice.  Either we take on the oil giants and end their rapacious behavior or we find a way to change the laws of physics to accommodate the insanity of ongoing pollution in the face of calamitous outcomes.
Shell, Exxon, BP, and the others in the fossil fuel industry were portrayed as world killers, rogue corporations whose relentless pursuit of profits threatens the lives and culture of every human being on earth.
The 350.org Do the Math Tour started in Seattle on November 7.   The nationwide tour visits 21 cities across the country and culminates in Salt Lake City on December 3.   Yesterday's presentation at the Warner Theater was followed by demonstration during which participants encircled the White House to remind President Barack Obama to hold fast on suspending work on the Keystone XL oil pipeline.
The math is simple and painful in its implications: Read the rest of this entry »
Tweet This Post