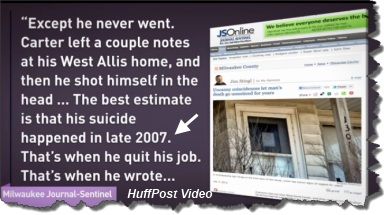 …may not be exaggerated.   But the acknowledgement may be delayed.
David Carter Found Dead In Foreclosed Ho mme As Many As Four Years After Suicide (VIDEO) Huffington Post
By Henry Bradford  Feb 6
"Abandoned homes have become an increasingly common sight amidst a national foreclosure crisis. Yet what may lurk forgotten behind closed doors may be much worse than nothing at all.
"A Milwaukee real estate agent entered one such house last month after it was repossessed due to tax foreclosure — the government can foreclose on a home if taxes and subsequent fees are not paid off within a designated time period — to find a sight he's not likely to forget soon. The body of the owner David Carter was found on the stairs in a "nearly skeletonized" state after being left there undiscovered for what investigators believe to be up to four years, The Daily Mail reports."
Bradford ties in another story and, by doing so, he creates a new genre, theater of the absurd vérité:  "A Florida woman is currently suing her lender, JPMorgan Chase, after the bank mistakenly declared her deceased in 2010, which she claimed ruined her credit score."  Seriously, why should there even be a suit?  What is so wrong with JPMorgan that they would not settle this right away.  Never mind justice and common decency, this makes them look even worse that they already look.
Two stories of our time of decline… In one the unbearable poignancy of a suicide unnoticed for four years speaks to the widespread alienation and isolation of so many. In the other, someone who wants to live and user her credit is denied proof of life despite what must have been multiple visits to JPMorgan banks and offices.
Where is the "right to life" movement when life is denied in the face of undeniable empirical evidence?
This is the stuff of Nathaniel West or Samuel Beckett.
Tweet This Post