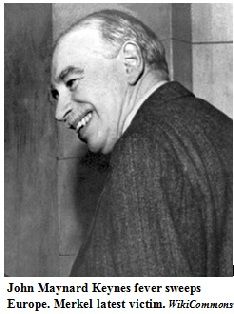 Angela Merkel is a pleasant practitioner of the art of suffering. She loves to share the crackpot notion that belt-tightening in times of Depression represents sound policy. Reminds me of Krugman's statement of shock when, at a gathering of academic economists, he realized that about 1/2 of them knew little about John Manyard Keynes. Now Merkel is getting another message from the German public (this happened a few years ago but this is harsher).
Merkel's party humiliated by shock election defeat
German voters reject austerity programme in favour of pro-growth opposition in state poll Tony Paterson, May 14, Berlin  The Independent
"Angela Merkel's ruling conservatives suffered a humiliating defeat in key elections in Germany's most populous state yesterday when voters rejected her party's austerity policies and handed a resounding victory to her pro-growth Social Democratic Party opponents.
"Ms Merkel's Christian Democrats were shell-shocked by the devastating result they returned in the poll in North Rhine Westphalia, which has a total population of 18 million. Exit polls showed that they secured a mere 25.5 per cent of the vote – their worst performance ever in the state.
"Germany's conservative Environment Minister, Norbert Röttgen, the party's candidate in the election, had mounted a vigorous campaign centred on Ms Merkel's austerity policies, which aimed to cut the state's €230 billion debt.
The conservatives in Germany deserve more than just electoral humiliation.  Look how they are visiting total humiliation on Greece, Spain, and Portugal.  Have no sympathy for these arrogant penny pinchers:
"Today is a very bitter day," Mr Röttgen conceded last night. "We have been clearly defeated." Read the rest of this entry »
Tweet This Post