By Michael Collins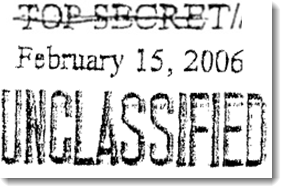 "My colleagues were entitled to ignore my views," he [Zelikow] continued. "They did more than that: The [2006] White House attempted to collect and destroy all copies of my memo. I expect that one or two are still at least in the State Department's archives." Phillip D. Zelikow, State Department Counselor, 2005-2007, to Congress, May 13, 2009
Former legal counsel to the Department of State, Phillip Zelikow, produced a convincing and elegant argument for the immediate cessation of anything that looked like torture in February 2006. The government declassified the memo last week and National Security Archive released it on April 3.
The failure to follow Zelikow's clear statement of the law, withholding the memo without justification, and the failure to prosecute those responsible for the previous acts represent evidence of crimes.
Zelikow's memo
Phillip Zelikow is the ultimate establishment insider. He took leave from his academic appointments at the University of Virginia to assist in the 2001 presidential transition. He helped Condoleezza Rice develop the doctrine of preemptive war after 9/11, and served as executive director of the 9/11 Commission. In that role, Zelikow shielded the Bush administration from responsibility for their epic failures associated with the attack.
When it came to blatant violations of laws that any rational person could understand, Zelikow had finally reached his limit.
Read the rest of this entry »
Tweet This Post