Posts Tagged keystone xl
This slideshow requires JavaScript.
Also see People Tell Obama NO XL Pipeline, Start Leading on Environment by Michael Collins Read the rest of this entry »
Tweet This Post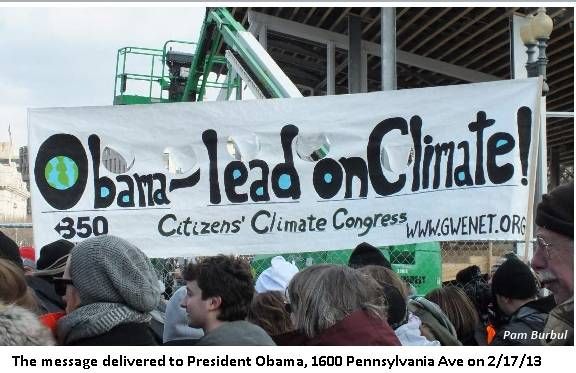 (Washington, DC 1/17)  The nation's capital hosted over 40,000 citizens assembled to petition the Government for a redress of grievances.  The crowd urged President Obama to bring to reality his lofty words on climate change in the inaugural address just days ago.  By stopping the construction of the Keystone XL pipeline, the president would deal a blow to the rogue energy companies who, by their actions, are ready to sacrifice everything to transport oil from Alberta, Canada's tar sands, across the United States, for refinement in Houston, Texas and shipment to China.
The broader concern of the gathered citizens and march sponsors, 350.org, and the Sierra Club, represents the existential issue of our time.  We need to get very real, very soon on the manifest threat to the earth's climate posed by fossil fuels and the threat to the human species embodied by insane ventures like the Canadian tar sands project.  The verdict of science is clear.  As leading climate scientist James E. Hansen said, the full exploitation of tar sands oil and use by China, or any nation, is "game over for the climate."
Citizens gathered at the Washington Monument, where speakers outlined the last chance scenario for reversing climate change.  While nowhere near the entire solution, stopping the Keystone XL pipeline offers the biggest win in the war for survival.  Bill McKibben, founder of 350.org, opened the program with the demand that President Obama live up to his campaign rhetoric and stop the pipeline from crossing the Canadian border.  That action would devastate the corporate partnership of Enbridge, TransCanada, and the other vultures seeking to profit at the expense of everyone else.  Michael Brune, executive director of the Sierra Club, argued that the coal and oil industries are on the run.  He cited energy use estimates for Texas, Colorado, and other states that show 30% of energy needs will be met by alternative fuels.  Brune chained himself to the White House fencing February 14 in the Sierra Club's first sanctioned act of civil disobedience in 120 years. Read the rest of this entry »
Tweet This Post
By Michael Collins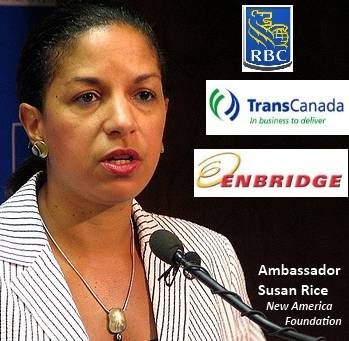 (Washington, DC 11/29) United Nations Ambassador Susan Rice will face serious and blatant conflicts of interest if nominated and confirmed as United States Secretary of State.  Rice has major financial interests in the company extracting oil from Canada's tar sands, the company building the pipeline that will carry the oil across the U.S., and the Canadian banks financing this deadly project. (Image)
As Secretary of State, Rice would be responsible for the key recommendation to President Barack Obama on lifting the president's ban on construction of the Keystone XL pipeline imposed in January.  She would make the decision knowing that there would be major impact on nearly one third of her (and her husband's) investments.
According to her 2011 financial disclosures, "Rice and her husband own at least $1.25 million worth of stock in four of Canada's eight leading oil producers." These include Enbridge,  the oil company extracting the highly toxic tar sands oil from Alberta, Canada's boreal forest, which are being destroyed to access the oil (boreal forests sequester carbon). Read the rest of this entry »
Tweet This Post