By Michael Collins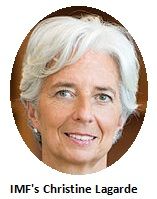 The International Monetary Fund (IMF) and Standard and Poor's are highly placed guardians of the world economy. IMF is supposed to teach developing nations how to be just like us, i.e., onerously indebted to the big banks. Standard and Poor's is the keeper of the credit, ratings that ripple through the economy and impact hundreds of millions. Nobody elected these folks. They were begotten, not made.
After IMF finished helping Egypt, Tunisia, and Libya with privatization and free markets, those nations descended into chaos and they're now broke, all of them, with lower living standards to boot. (See IMF Rates Up Dictatorships Just Before Revolutions)
When Standard and Poor's (S&P) downgraded the credit rating of the United States, money stayed tight although Fed Chairman Bernanke said he was ignoring the change.
Who are these folks anyway?
IMF is headed by Christine Lagarde. (Image: WikiComons)  She is still under judicial investigation  for settling a law suit in favor of her boss's pal. President Sarkozy appointed Lagarde as Finance Minister. When Sarkozy supporter Bernard Tapie lost a big court case to state owned bank Credit Lyonnais, Lagarde intervened and got the decision reversed.  Instead of losing the case, multimillionaire Tapie walking off with $280 million.
The vaunted S&P relies on integrity and competence. How can that stand after S&P agreed to a consent decreed when the Connecticut State Attorney General charged S&P with fraud in rating municipal bonds.   The company agreed to all sorts of corrections in their policies, essentially admitting guilt. As if that weren't bad enough, Standard and Poor's played a central role in the inflation and collapse of the real estate bubble. Quite a record!
How arrogant these guardians are. They are the ones in need of guarding.
Tweet This Post