The first crack in Rupert Murdoch's political facade in Australia occurred Friday, May 4.   The Australian Media and Communications Authority (ACMA) announced it was looking closely at the House of Commons committee report that declared Murdoch unfit to run an international business.   ACMA licenses and regulates television broadcasting, digital communication, and radio frequency allocation.
Rupert Murdoch controls 70% of the newspaper market in Australia.  He has major interests in the Foxtel pay TV network.  And his political influence in Australia is even greater than in Great Britain and the United States.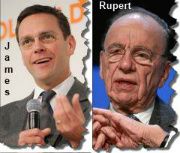 The Australian Communication and Media Authority (ACMA) is reviewing the British parliamentary committee report which described News Corporation chairman Rupert Murdoch as 'not fit' to lead an international company.
The explosive findings also suggested that former chief executive James Murdoch was wilfully ignorant of the extent of the practice of phone hacking at the now-defunct News of the World. News Corporation released a statement on Tuesday accepting the report, while rejecting some of its "unjustified and highly partisan" commentary.   Murdoch report: ACMA and US Senate enter the fray, May 4
This is the first sign of any potential challenge to Murdoch's authority in his former homeland.   Despite a heavily documented expose of alleged pay TV hacking and piracy published by the Australian Financial Review, Australian competition regulators gave approval for a Foxtel (Murdoch controls it) acquisition of a competitor (AUSTAR)  that it is alleged Murdoch's firm hacked.
Tweet This Post