By Michael Collins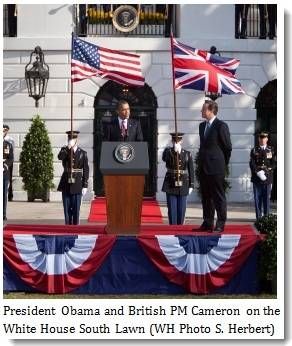 What a lovely photo of the two well-heeled leaders of the free world. Previously, it was the American cowboy president and the supposedly left leaning Prime Minister Tony Blair. That buddy act helped drag United States into the worst foreign policy disaster in its history. (Image full size)
This working partnership between President Barack Obama and Prime Minister David Cameron portends less immediate damage than the Bush-Blair team. Nevertheless, there will be blood
Is there anything other than disaster awaiting the US and Great Britain in Afghanistan?
The response to the murder of sixteen Afghan civilians on March 12th has been disastrous for the United States with retaliatory attacks ongoing. Even before that, March 8 was a Deadly day for the Brits in Afghanistan with six soldiers killed in a bombing of an armored vehicle. General David Allen, in charge of the Afghanistan effort, lamented that this is the type of incident that could threaten the entire effort.
How will the U.S.-British enterprise recover from the latest in a series of insults to the Afghan people?
The people of the U.S. and Great Britain get the message. In a recent poll, 61% of citizens want U.S. troops home immediately. Only 19% oppose that decisive action. In Great Britain, 75% oppose the Afghan war effort.
With negligible public support and tottering economies, how can Obama and Cameron conceive, even for a moment, that withdrawal will last through the 2014 timeline?
Read the rest of this entry »
Tweet This Post