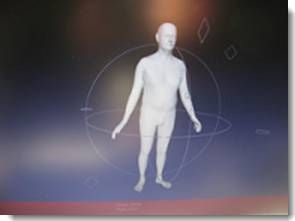 It looks like TSA has reached a new low. According to this piece at Politico, TSA's "new policy also will include measures to screen young children without resorting to an intrusive pat-down of private areas on the body." That's good news, of course, but catch this in the fourth paragraph: "The TSA plans to reduce the number of pat-downs given to children by asking screeners to send children through metal detectors, or to walk through imaging machines multiple times to capture a clearer picture." (Image:  Rain Rabbit)
"WALK THROUGH IMAGING MACHINE MULTIPLE TIMES"? Walking through an imaging machine exposes a person to radiation. Exposure to radiation causes cancer. The more times you walk through, the more radiation you're exposed to.
No amount of exposure to radiation is 100% safe, but everything in life is risky; could this risk be reasonable? Some experts are not convinced that it is. Here is a letter from four scientists, Dr. John Sedat, Dr. David Agard, Dr. Marc Shuman, and Dr. Robert Stroud, who are experts in relevant fields including biochemistry, biophysics, and imaging. In addition to their general concerns about ensuring that the dose be controlled, these scientists express a special concern for children: They say, "The risk of radiation emission to children and adolescents does not appear to have been fully evaluated."
It's bad enough that anyone has to walk through one of these machines of unproved safety to get on an airplane. It's worse that children – who are more vulnerable than adults to radiation – have to do it. But it is worse still that children may have to multiply their exposure by walking through more than once.
As an aside, the bright side of this is TSA's tacit admission that maybe the sexual assault that is called a "pat-down" is not a good thing for a child. In time maybe they'll figure out that it's not a good thing for adults either.
Tweet This Post