By Michael Collins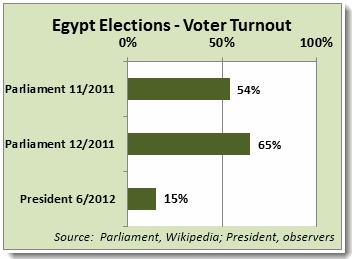 One goal of Egypt's 2010 union inspired Tahrir Square protests was fulfilled during the December, 2011 parliamentary elections. Nearly 65% of the nation's fifty million eligible voters turned out to vote. Turnout for the June 16 and 17, 2012 presidential election dropped to an estimated 15%* according to local and press observers. What happened?
Three factors contributed to the exponential decline in voting. Egypt's courts took leading candidates off of the final presidential ballot. The disappeared candidates had the support of 68% of the electorate according to a major preelection poll in early May. Egyptian courts also disqualified one third of the recently elected parliament. Just a day before the election, military commander Mohamed Hussein Tantawi announced that the constitution had been annexed. This was a nice way of saying that the military was assuming most of the powers of the presidency, leaving the newly elected chief executive with little to do.
The entire foundation of the election vanished in plain sight. There was no point in voting. The preelection actions by the courts and military represented the most fundamental form of election fraud by making the elections meaningless.
Why vote? Read the rest of this entry »
Tweet This Post