News International 'tried to blackmail select committee'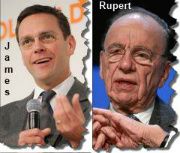 Detectives carrying out the multimillion-pound investigation into illegal newsgathering techniques at Rupert Murdoch's British newspaper group have been asked to investigate whether it attempted to blackmail politicians.
The alleged plot centres on News International's apparent efforts to warn off MPs on a parliamentary committee from disproving its discredited defence that phone hacking was the work of a single "rogue reporter".
According to the former senior News of the World journalist Neville Thurlbeck, News International ordered the Sunday paper's reporters to scour the private lives of MPs on the Commons Culture, Media and Sport Committee in 2009. At the time, Mr Murdoch's company was mounting what it now admits was a mistakenly "aggressive" response to allegations that the interception of voicemail messages was rife at its headquarters in Wapping, east London. On the advice of the parliamentary authorities, the Labour MP Tom Watson has now asked the Metropolitan Police to investigate the allegation.
Tweet This Post