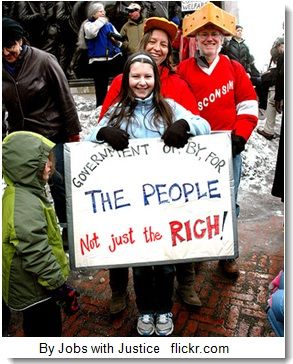 By Sheila Parks, Ed.D.
In the 2000 presidential election, Florida needed Katherine Harris (then Florida Secretary of State), Jeb Bush, the Supreme Court justices – and the connections between them – to put George W. Bush in the White House. See John Nichols, Jews For Buchanan (Image: Jobs with Justice)
The optical scan machines in Volusia County, product of Diebold Corporation, were also key in this election. Alastair Thompson wrote a detailed analysis of the election fraud that occurred in Volusia Country on optical scans. His account relies heavily on the original work of Bev Harris in Chapter 13, Security Breaches, in her book BLACK BOX VOTING: Ballot-tampering in the 21st century. Read the entire book online.
The Emmy-nominated documentary Hacking Democracy shows Finnish computer expert Harri Hursti hacking the same kind of machines as those used in Volusia County. Harris, who arranged the hacks, stars in the film. So does Kathleen Wynne, one of the first people in the country to call for publicly observed secure hand-counted paper ballots (HCPB) elections.
The Election Assistance Commission (EAC) issued a warning in December 2011 about ES&S DS200 IntElect optical scan electronic voting machines errors during voting. These machines were used in Florida, Ohio, Wisconsin, Illinois, Indiana, and New York. Read more details here and here.
Read the rest of this entry »
Tweet This Post