An update of Post Nuclear Japan, Pre Disaster United States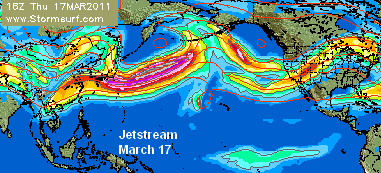 Stormsurf.com  (See the latest forecast)
The world is about to be shoved through the looking glass, head first.
New York Times:  Japan Faces Potential Nuclear Disaster as Radiation Levels Rise
TOKYO — Japan's nuclear crisis verged toward catastrophe on Tuesday after an explosion damaged the vessel containing the nuclear core at one reactor and a fire at another spewed large amounts of radioactive material into the air, according to the statements of Japanese government and industry officials.  New York Times, March 15
The two critical questions over the next day or so are how much radioactive material is spewed into the atmosphere, and where the winds carry it.
"We are on the brink. We are now facing the worst-case scenario," said Hiroaki Koide, a senior reactor engineering specialist at the Research Reactor Institute of Kyoto University. "We can assume that the containment vessel at Reactor No. 2 is already breached. If there is heavy melting inside the reactor, large amounts of radiation will most definitely be released."  New York Times, March 15 (approximately 2:15 ET)
Tweet This Post