HOW ABOUT JAIL TIME INSTEAD OF BONUSES from The Guardian
Goldman pays out bonuses of £8bn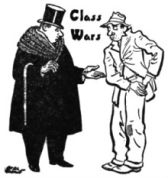 Investment bank's pay and bonuses for the year equal to the size of Albania's GDP

January 19
(guardian.co.up)Goldman Sachs, the City of London and Wall Street totem, will divvy up a $12.2bn (£7.9bn) pay and bonus pool among its staff, despite public and political anger and in the face of crumbling revenues and profits.
Even though the investment bank said it had cut its remuneration bill – salaries, bonuses and benefits – by more than a fifth, it still came out to about the size of the GDP of Albania and prompted an outcry from unions.
The figures were revealed alongside Goldman's latest annual results, which showed how post-credit crisis regulations and volatility in the eurozone are hurting bank profits. Revenues fell 26 per cent in 2011, the bank said, and profits slumped by 47 per cent to $4.4bn.
Some 42.4 per cent of revenues will go to employees, in the form of salaries, bonuses and benefits, the company said, up from 40.5 per cent last year, though a bank spokeswoman said that an increase in basic pay and benefits was the main reason for the increase.
Tweet This Post