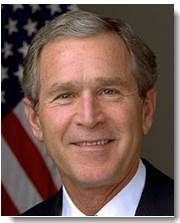 Those who cannot remember the past are condemned to repeat it. George Santayana
George Bush lost the 2000 election by half a million votes.  When the state of Florida wanted to recount votes, Bush operatives disrupted the disreputable Florida elections commissions that held the key to a fair count.  But there was no point. Lists of felons from the Governor Bush Texas government were used to knock 50,000 legally registered voters off the Florida voting lists.  Many of whom were minority voters.  Turnout in Florida was very high.  Without that preemptive strike, there would have been no recount necessary.  Bush would have lost Florida outright.  The 2000 election was stolen. (Image)
Bush got in and immediately planned an invasion of Iraq, the greatest foreign policy disaster in the history of the country.  The true cost is over three trillion dollars.
Commander in chief Bush presided over a profound command failure leading up to 9/by failing to acknowledge overwhelming intelligence evidence of a plot to attack U.S. skyscrapers with airplanes.  The military command was so disarrayed; the U.S. Air Force could only mount a few fighters in defense and they arrived late.
Bush took Clinton era deregulation and allowed Wall Street to set up a big casino scam that brought the economy and many of the people to their knees financially.
Read the rest of this entry »
Tweet This Post